Automatic Smart Card Dispenser TCR8
Latest Development in Toll Collection System.
Why use TranSpeed Automatic Card Dispenser Machine?
Reduce Manpower, Economically Viable Manual toll collection is the most commonly used method in collecting toll. In a typical manually lane, 4 operators are required to operate the lane over three shifts in a day. The manpower cost is approximately USD 18,000 per year, excluding all other daily administration expenses. This constitutes a huge percentage of the overall operating expenditure. By deploying the TCR8 Automatic Card Dispenser Machines, the manpower requirement will be significantly reduced as lanes are no longer manned. This in turn will lower the operating expenses tremendously while increasing the efficiency of the operation.
Operate Additional Exit Lanes, Better Service
With the deployment of unmanned entry lanes, manpower will be shifted to exit lanes. More exit lanes could be operated and focus could be made in reducing vehicles waiting time. The overall quality of service will be enhanced.
Neat and Beauty, Creating A Better Image
Collection booths, anti-knocking block and the others unnecessary facilities can be removed when TCR8 Automatic Card Dispenser Machines are implemented at unmanned lanes. The lanes will be less clutter, more spacious, neater and easier to upkeep; thus creating a better and newer image of a toll plaza to its highway users.
Total Control and Management of smart cards, Increase Operational Eciency
Coupled with Card Receiver at exit lanes, smart cards are tightly managed, controlled and circulated between the exit and entry lanes. Human intervention is not required in card handling; this minimizes card loss and card fraud.
System Controller
The TCR8 Automatic Card Dispenser Machine is equipped with a built-in lane controller that provides full control of the lane operation. It interfaces directly with the automatic gate barrier, lane traffic light, CCTV, loop detector and other lane devices.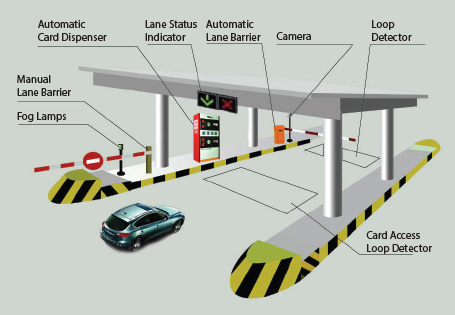 Avoid Illegal Card Collection
A loop detector is used to detect the present of a vehicle before card is dispensed by the system. This eliminates the risk of issuing cards to illegitimate parties.
System Architecture
The TCR8 consists of four Automatic card dispenser slots, a central controller, and a communication/ intercom device. It is the central operating system of the card dispenser machine.