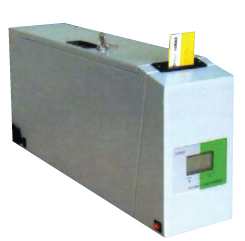 TCR12 Manual Contactless I.C. Card Dispenser/Receiver
The TCR 12 D/R is a manual contactless smart card Dispenser/Receiver specially designed for use in the manual Toll collection system at the Toll Plaza. Its functions include system management, smart card dispensing/receiving, writing/reading and calculation of smart card quantity.
It is supplied with a simple and maintenance free concealed cartridge for storage of smart cards. It eliminates the problem of card counting, and ensures safe and fast turn around time forsmart cards circulation. It increases efficiency and reduce the possibility of card lost and fraud.